-Place your heels on the 1/2 foam roll that is flat side down.

-Place a rolled up towel just above your knees.

-Your feet should be together (touching each other).

-Arms overhead but do NOT hyperextend your lower back. The higher you reach your hands above your head, the more your core will fire.

-Reach down toward your toes, if you have to bend your knees to reach your toes, do so.

-Do not hyperextend your knees, they should have a slight bend.

-Hold for a few seconds, and return to starting position.

-Squeezing the towel with your inner thighs will turn on your core and should help increase range of motion.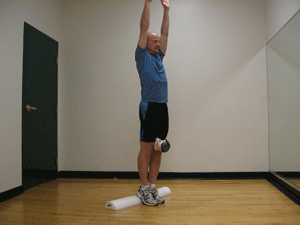 Toe Touch

Progression

(Heels on Foam)

Competency

Criteria

-Client does not hyperextend lower back upon returning from flexed position.

-Client does not maintain straight legs, but keeps a slight bend in each knee.

-Feet are together (they should be touching each other).